What is Reverse Mortgage?
Whilst a reverse mortgage is secured by a conventional mortgage (similar to the one you probably had when you purchased your home) it differs from a conventional mortgage loan, because the borrower is not required to make any 'regular'
repayments to the loan.
The amount you can borrow is governed by a formula based on the value of your home and the age of the youngest borrower. Interest is calculated on the amount of the loan actually drawn down, and capitalised (or added) to the loan balance each month.
The loan funds can be accesses as a lump sum; as regular instalments or on an as required basis, (commonly referred to as a line of credit) or a combination of all 3.
Over time, your home equity typically decreases while your debt increases. If you sell your home, move, or pass away, the lender will then require payment of the principal 'equity' you have released to date, plus any accumulated interest and fees. The remaining equity in the home will go to you, or your heirs if you have already passed away.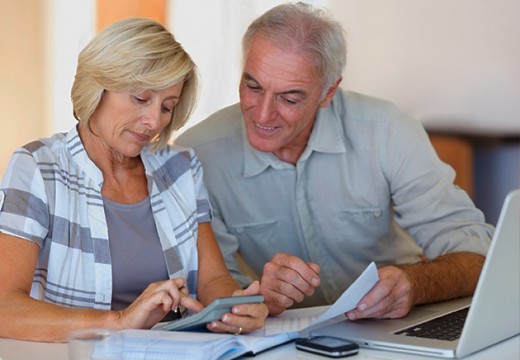 Key Points:
Based on a recent report from Deloitte,

the total value of

reverse mortgages in Australia is now $3.7 Billion.
Reverse mortgage loans allow you to borrow against the equity of your home and get a lump sum, line of credit, or a fixed monthly payment.
Repayment is not required until you sell your home, permanently move out, or you pass away.
Before signing a loan agreement, it is important to consult

your

RMFS adviser

s

to understand the basics of

a

reverse mortgage, how it works, how you can apply and the costs involved.
An Example of How a Reverse Mortgage Australia Works
Bob and Lynda are a retired couple, aged 74 and 68, who want to keep their home, but need to buy a new car. They also want to take a holiday to visit family.
Every now and then they had heard about reverse mortgage but they were initially hesitant, because they don't know the details.
They decide to call RMFS to consult their existing needs and future goals. After meeting an adviser, Bob and Lynda learned that the value of their home is $800,000. They still have an existing mortgage balance of $25,000.
The illustration shows how the senior couple spend the proceeds of their reverse mortgage loan:
| | |
| --- | --- |
| Present Home Value | $800,000 |
| Available Reverse Mortgage Loan- based on Lynda's age | $200,000 |
| Associated Loan Fees | $1,500 |
| Available Loan Proceeds | $198,500 |
| Less Existing Mortgage | $25,000 |
| Cash Net Proceeds | $173,500 |
| Buy New Car | $30,000 |
| Take Holiday to Visit Family | $7,000 |
| Remaining undrawn funds as 'cash reserve' to fund future retirement living | $136,500 |
| Amount of loan being charged interest |   $ 63,500 |
* Please take note that this is just an estimate, and not a guarantee. The loan rates, proceeds, and fees may vary according to your age and property value.
Protection For Your Reverse Mortgage Loan
All reverse mortgage loans are strictly regulated under the National Consumer Credit Protection (NCCP).
Your RMFS consultant will clearly explain your options and possible loan rates using an ASIC approved reverse mortgage calculator.
You are also required to consult a lawyer before finalising your Reverse Mortgage loan with us or with any lender. We also encourage you to seek independent financial advice.
Federal Law guarantees you protection when you take reverse mortgage loan through the "no negative equity guarantee". The final balance of the loan cannot be higher than the net sale value of the home, regardless of the loan terms and interest rates.
See how much your debt will increase over time and the effect on your equity in your property, by using the calculator provided by the Australian Securities & Investments Commission (ASIC).